It's been an emotional day in the twitter-verse as the world reacts to Beyonce's new....hair cut? That's right everyone! Forget ebola and ISIS, Beyonce cut bangs and it's the worst thing that's ever happened to her fans. Let's take a look! Drum roll please...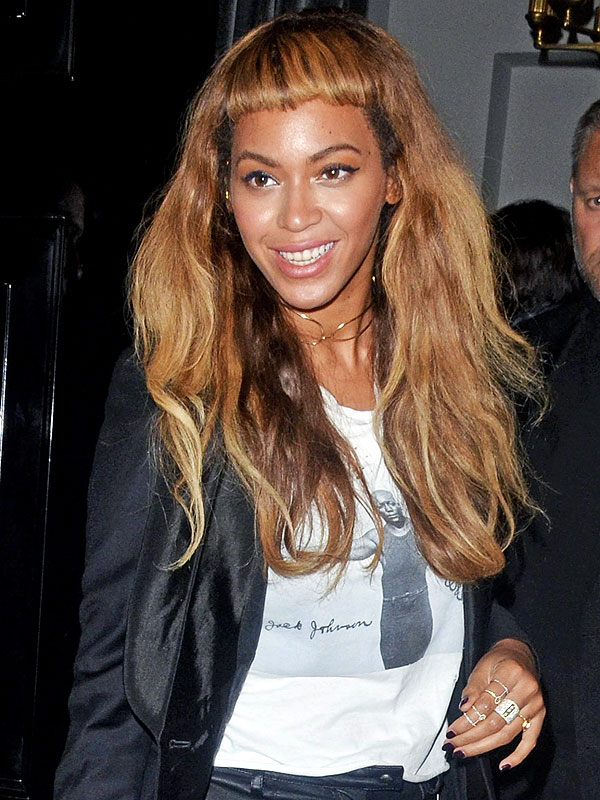 Oh wow. Those really are terrible. Sorry, Bey.
WTH is with the bangs Beyonce? #BeyonceBangspic.twitter.com/Bmx0IyWHf4

— Otis Oshow (@OtisKiss951) October 15, 2014
Of course, when it comes to Queen-Bey, we're supposed to be careful what we say and NEVER take her name in vain. But we're not afraid to say how bad they are unlike US Weekly, who was tip-toeing around the subject.
Ehh, we're not so sure about Beyonce's new bangs. Thoughts? http://t.co/VabuoDiRFy

— Us Weekly (@usweekly) October 15, 2014
And of course her truly devoted fans will defend her bangs or no bangs.
@TheKempire Ya'll act like Beyoncé can't change up her hairstyle in two seconds... that ain't even her hair. O_o #BeyoncesNewHairstyle

— Hollywood Trends (@Hollywoodprofil) October 15, 2014
You can't diss Beyoncé's bangs when you've been wearing the same synthetic Yaki hair from the swap meet for the past 6 months.

— Stevie Ryan (@StevieRyan) October 14, 2014
We're only 95% sure that last tweet is defending Beyonce. High five! This isn't the first time Beyonce has surprised us with a crazy hairstyle.
We survived the pixie cut and we'll survive the bangs. But until then, we feel it's our duty to at least enjoy the tweets about it.
Everyone's outraged because Beyonce got super short bangs. I for one think Blue Ivy did a great job.

— lisa vikingstad (@lisavikingstad) October 15, 2014
beyonce's bangs be like…. (h/t @AdamJBianchi) pic.twitter.com/UfK9xD3DOw

— Ashley Perez (@itsashleyperez) October 14, 2014
in honor of beyonce i promise to never give myself bangs again

— local celeb (@spaceblows) October 15, 2014
This is a both hard & emotional time for the Beyhive. Please respect our privacy at these difficult times & please pray for Beyoncé's bangs.

— Danny (@dannyyonce) October 14, 2014
What do you think about Beyonce's haircut? Has anyone been diagnosed with Ebola since we wrote this post?
The views and opinions expressed herein are those of the author's alone and do not necessarily reflect the views of Ora Media, LLC, its affiliates, or its employees.