By this time next year, you will have the opportunity to own a book filled with Kim Kardashian's selfies. That's right. For $19.95 you can buy all of Kim Kardashian's selfies which up until now have been, um, free, haven't they? Good work, everyone! The book is for real AND will be called "Selfish" AND will come out in April 2015 AND will have over 300 selfies AND hopefully all of the amazing text that originally accompanied them. So now Kim Kardashian isn't just a reality-TV-sex-tape star. She's also an author, photographer, model, reality-TV-sex-tape star.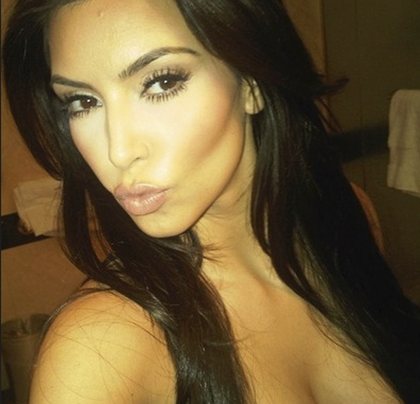 Twitter is taking the news surprisingly well. Instead of banging their heads repeatedly against the wall, they're taking to twitter to express their feelings. It's much healthier this way.
I was mad about the Kim Kardashian "selfie book" until I found out it's being produced by Charmin and they plan on making it 2 ply.

— Comedian Ryan Broems (@ryanbroems) August 11, 2014
Kim Kardashian is selling a 352-page "selfie book". If you're even considering spending the $19.95 please just throw that $20 in the trash.

— Ethan White (@EthanWhite15) August 11, 2014
A Kim Kardashian selfie book? WHAT THE HELL SOUNDS DUMB WHO WOULD BUY THAT PFFFF *pre-orders 14 copies/tips hat to badass businesswoman*

— Anne T. Donahue (@annetdonahue) August 11, 2014
In honor of Kim Kardashian's book of all her selfies, I will be releasing a trilogy of my @ mentions. #SelfImportantBoob

— Jim Norton (@JimNorton) August 11, 2014
replaces all bibles & religious texts + puts a copy in every hotel room of the Kim Kardashian hardback 352 page selfie book

— DANIEL الجنة (@DanielDelloRey) August 9, 2014
Y'all I can already hear Kanye jumping on tables screaming how revolutionary and world changing this Kim Kardashian selfie book is gonna be

— menna (@ZARRYNBHD) August 8, 2014
Kim Kardashian is releasing a book of just selfies. I think I'm done with modern society. If you purchase that, I hate you.

— Rachel Green (@Rachel_Green16) August 8, 2014
Thank you, twitter for saying it better than we could have ourselves.
The views and opinions expressed herein are those of the author's alone and do not necessarily reflect the views of Ora Media, LLC, its affiliates, or its employees.