The news this week that Indiana Governor Mike Pence approved a 'Religious Freedom' bill that ostensibly allows businesses to discriminate based on sexual orientation prompted #boycottIndiana to trend at the top of Twitter, as well as numerous funny photos and quips like this one: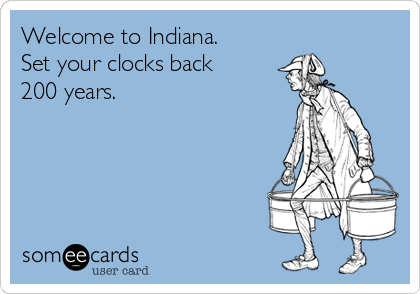 While it's unlikely any big celebs had plans to spend time in Indiana this week, the online activism spurred by this new law included tweets and promises to avoid the Hoosier state from everyone from George Takei to Hillary Clinton to James Van Der Beek to our own Larry King, who took to the web to add his two cents.
Indiana's anti-gay 'Religious Freedom' bill signed by Gov. Pence is absurd & insulting. This is 2015. Ridiculous. #RFRA

— Larry King (@kingsthings) March 27, 2015
But as Newsbreaker points out in the video above, the law isn't just directed at the LGBT community – it puts any business in a position to discriminate however they see fit.Mother Jones reports: "An employer who refused to hire Jewish employees could cite his religious beliefs as a defense against discrimination lawsuits. So could a landlord who refused to rent to Muslims, or a business that refused to serve atheists."
So unless bigotry is your thing, maybe think about putting your plans to see the World's Largest Paint Ball and the Dan Quayle Vice Presidential Museum on hold for a while.
The views and opinions expressed herein are those of the author's alone and do not necessarily reflect the views of Ora Media, LLC, its affiliates, or its employees.