After making everybody who cares about basketball wait for what seemed like FOREVER, LeBron James finally announced where he would be taking his talents next season, first on Instagram.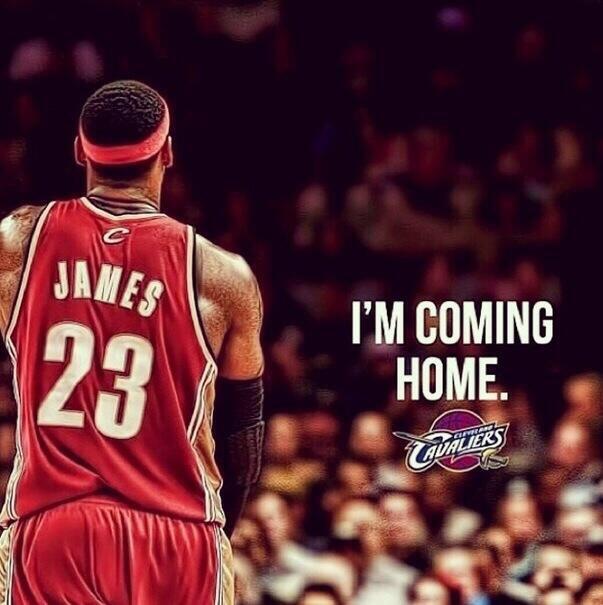 Ohhh, which filter is that? Mayfair? Hudson? X-Pro II? LeBron's announcement didn't live on instagram alone. He also released a story with Sports Illustrated explaining why he chose to come back to Cleveland after breaking the city's heart four years ago.
I always believed that I'd return to Cleveland and finish my career there. I just didn't know when. After the season, free agency wasn't even a thought. But I have two boys and my wife, Savannah, is pregnant with a girl. I started thinking about what it would be like to raise my family in my hometown. I looked at other teams, but I wasn't going to leave Miami for anywhere except Cleveland. The more time passed, the more it felt right. This is what makes me happy.
Meanwhile fans reading this are like, "YOU ALWAYS BELIEVED you'd return to Cleveland? Probably something you should've mentioned before we, um, burned your jersey in the streets. About that, Sorry?"
We are loving all of the twitter reactions to LeBron's big news. Here are a few of our favorites.
LeBron James is returning to Cleveland? Quick, I have to write a tweet about this topic I barely understand!!

— Adam Conover (@adamconover) July 11, 2014
Can't believe LeBron announced he's the Zodiac killer.

— Mike Drucker (@MikeDrucker) July 11, 2014
*Quickly Googles "how to un-burn an NBA jersey* - Cleveland fans

— Travon Free (@Travon) July 11, 2014
*Googles "how to snort an NBA jersey"* - Miami Heat fans

— Travon Free (@Travon) July 11, 2014
Lebron's the only kid from The Midwest who went to a big city & returned that's not moving back in w/his parents

— sandy danto (@SandyDanto) July 11, 2014
A MAGAZINE WRITER BROKE THE LEBRON STORY! TELL YOUR KIDS IT'S OK IF THEY STILL WANT TO GO TO JOURNALISM SCHOOL!

— Kevin Van Valkenburg (@KVanValkenburg) July 11, 2014
Here's my question about Cleveland: where is it

— Jake Weisman (@weismanjake) July 11, 2014
THIS IS CRAZY A GIANT CROWD IS GLUING THE HEAD BACK ON THE LEBRON JAMES STATUE IN THE CENTER OF CLEVELAND

— Josh Greenman (@joshgreenman) July 11, 2014
As someone who grew up in Florida, I understand leaving Florida.

— Mike Drucker (@MikeDrucker) July 11, 2014
LeBron James is returning to Cleveland. Miami residents have popped their collars at half mast in mourning.

— Last Week Tonight (@LastWeekTonight) July 11, 2014
Anyone else pull up google for 2 seconds before realizing even the best player in the #NBA can't get you to visit Ohio? #LeBron

— Mike Maxwell (@themikemaxwell) July 11, 2014
Who's laughing now?
The views and opinions expressed herein are those of the author's alone and do not necessarily reflect the views of Ora Media, LLC, its affiliates, or its employees.