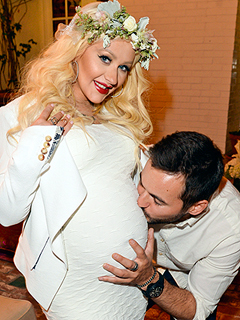 Christina Aguilera had her baby! She and her husband announced on twitter the arrival of their baby girl along with her name.
So proud to welcome our beautiful daughter Summer Rain Rutler into the world.

— Christina Aguilera (@xtina) August 18, 2014
Twitter welcome the news with excitement...ok and a few snarky tweets about the name Summer Rain because, come on, really? In true celebrity form, instead of picking a name like Sarah or Jessica or Sarah Jessica, Christina picked a somewhat unusual name because she's gotta keep up with North (West) and Blue (Ivy). Here are few of the reactions we saw to the name Summer Rain on twitter.
Christina Aguilera has named her baby Summer Rain. The child is expected to be beautiful at first but then will become a burden on my day.

— Max Dylan Ash (@mynameisntdave) August 18, 2014
Christina Aguilera names new baby "Summer Rain." Which is a much better choice than "July Moisture."

— Wendi Aarons (@WendiAarons) August 18, 2014
Christina has named her baby daughter Summer Rain. Morning Glory, we hope, has not been reserved for her son

— Harald Wartooth (@roomthinker) August 18, 2014
Names Christina Aguilera rejected for her baby, Summer Rain: - Purple Rain - Summer's Eve - Cruel Summer - Rain, Rain Go Away - Baby Sequel

— Mark Campbell (@MrWordsWorth) August 18, 2014
Christina Aguilera named her newborn daughter Summer Rain. In other news, I'm changing my name to Fall Wind. ::takes a bow::

— Veronica Lewis (@VeronicaLewis) August 18, 2014
Can't believe Christina Aguilera named her daughter Summer Rain. Personally, I think Autumn Fog would've been a better choice.

— ¿ jay ? (@jaymeisterrr) August 18, 2014
Christina Aguilera named her child Summer Rain, most likely because her shampoo bottle was closer than the conditioner.

— John (@thejohnblog) August 18, 2014
Summer Rain, your name is the least of your worries. Christina's pregnancy photos were recently released and we were excited to see that they were as awkward as we expected.
The views and opinions expressed herein are those of the author's alone and do not necessarily reflect the views of Ora Media, LLC, its affiliates, or its employees.