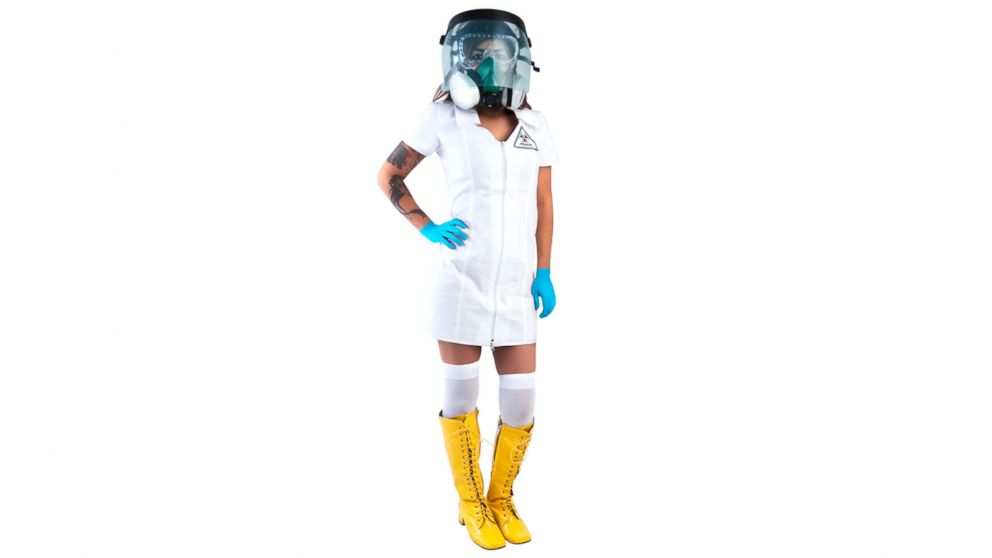 "You're quarantined, mister. Quarantined to my sex room."

Firstly, Happy Halloween!
Secondly, if you're dressed up as Ray Rice and his wife, whom he assaulted, stop it. Stop it right now.
And thirdly, if you're dressed up as a Sexy Ebola Nurse, just know, WTFark went there first. (But we went there as an original joke, so you should probably stop it too, since it's no longer original.)
WTFark - "Dressed To Ill" - October 16th, 2014
As seen in the video above, we introduced the concept of a "Sexy Ebola Containment Nurse" as a joke in our WTFark episode, Dressed To Ill, on October 16th, 2014. This video was also published on The Huffington Post two days later.
And of course, as we should have predicted, the Sexy Ebola Nurse costume is now an actual thing.
But when did this become an actual thing? How far in advance did we manifest destiny by jokingly suggesting that first world, western civilization humans do something terrible while third world, West African humans die?
So we scoured the Internet today, and found this article from The Medical Daily, in which the concept of a "slutty Ebola nurse" is hypothesized. It's publish date? October 16th - the exact same day that we proposed the concept.
Okay, so that means someone else, namely, Lecia Bushak, thought of the concept as a ridiculous-thing-that-should-never-be as the same time of us. (Well done, Lecia. Great minds think alike.)
But when did it become an actual thing for the first time? Who took our idea, and Lecia's idea, and made it into a horrible reality?
That didn't come until 10 days later, October 26th, when a variety of media outlets broke the news heard round the Internet.
So the answer is 10 days. We predicted the Sexy Ebola Containment Nurse costume 10 days before it came to be. And guess what, we think our Sexy Ebola Nurse is hotter. Here's a side-by-side comparison:
"See? Ours has the Texas Health Presbyterian Hospital badge. Extra sexy points."
And for this reason, we will go to sleep tonight with a little smile on our faces, knowing that we are sick in the head. (And damn proud of it.)
The views and opinions expressed herein are those of the author's alone and do not necessarily reflect the views of Ora Media, LLC, its affiliates, or its employees.